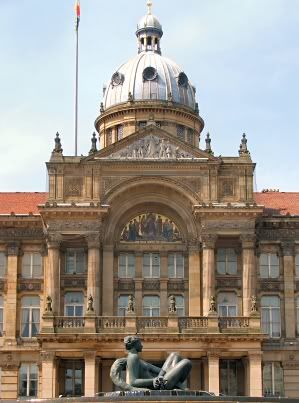 Quite unsurprisingly, this is the centre for Birmingham City Council. It is a Grade II listed building and has offices for employed and elected council members, a council chamber, Lord Mayor's Suite, committee rooms and a large and ornate banqueting suite, complete with minstrels' gallery. The balcony you see in the photo is apparently used by visiting dignitaries and victorious sports teams to address crowds assembled below, although I've never seen it being used!

The Council House has its own postcode, B1 1BB.

Outside at the front is Victoria Square and on the left side (when facing the bulding) is Chamberlain Square. The left side of the building has a large entrance which leads into Birmingham Museum & Art Gallery, the admission into which is free and is well worth a visit.

The water feature statue in the photo is part of a larger water feature out of shot. The design, by Dhruva Mistry is called The River but is nicknamed and has become more commonly known as The Floozie in the Jacuzzi. It isn't part of the council house and I'll go into more detail in another post.