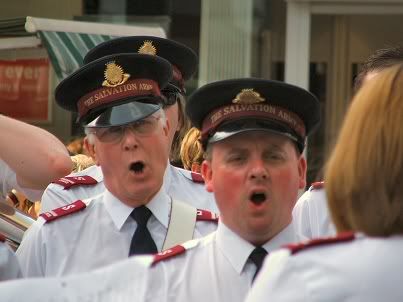 The Salvation Army is of course not unique to Birmingham by any means, but I feel obliged to give a brief outline of their history nevertheless.
The Salvation Army was founded by a Nottingham-born man called William Booth. When he was thirteen years old, he started working in a pawnbroker's shop as an apprentice to help support his family and as he did so, he became more aware of the terrible poverty around him. This would affect his later life. Soon he became a Christian and spent what spare time he had trying to convert others.
He moved to London once he had completed his apprenticeship and continued to work as a pawnbroker. While there, he joined a local Methodist Church and later decided to become a minister, in which role he spent several years travelling around the country, preaching and sharing God's word. He didn't feel this was enough, however and so resigned and returned to London, determined to do more to help ordinary people.
One day, aged around thirty-six, when he was preaching in the street outside the Blind Beggar pub in the East End, some missioners were impressed by hs powerful speeches and invited him to lead some of their meetings in a tent in Whitechapel.
In July that year, the first meeting took place, and Booth gave hope to some the poverty-stricken East Enders with his speeches. Following these meetings, he formed his own organisation and called it 'The Christian Mission'.
With a lot of time and hard work, the mission began to grow but it still seemed insignificant amongst the other hundreds of charitable and religious groups trying to help in the East End.
In 1878, The Christian Mission changed its name to The Salvation Army and people suddenly took more notice. The concepts of an army fighting sin and of belonging to something special and powerful appealed immensely and many people joined up in attempt to do something good with their lives. In fact, The Salvation Army grew to be so popular that it spread abroad and by 1912 The Salvation Army had extended to fifty-eight countries.
Today, The Salvation Army's work continues and according to their own website, they provide a range of programmes and support:
3,000,000 meals served every year at community and residential centres
79,000 prisoners visited each year in 134 prisons
3,000 homeless people given food and shelter every night in 59 centres
776 local church and community centres
636 elderly people accommodated every night in 17 residential centres
300 youth clubs providing a caring environment for young people
120 drop-in centres offering support and help for people in need
70 day centres for elderly and disabled people
50 nurseries and playgroups
20 Red Shield support centres for military personnel in the UK, Germany and the Falkland Islands
12 people reunited every working day with their families through the Family Tracing Service
6 residential centres for victims of alcohol and drug abuse
6 centres for families and one community home for children
2 centres for people with special needs
2 employment training centres
1 centre for women escaping from domestic violence
In the photograph, the Birmingham Citadel Band is singing in the middle of the large junction of High Street and New Street.